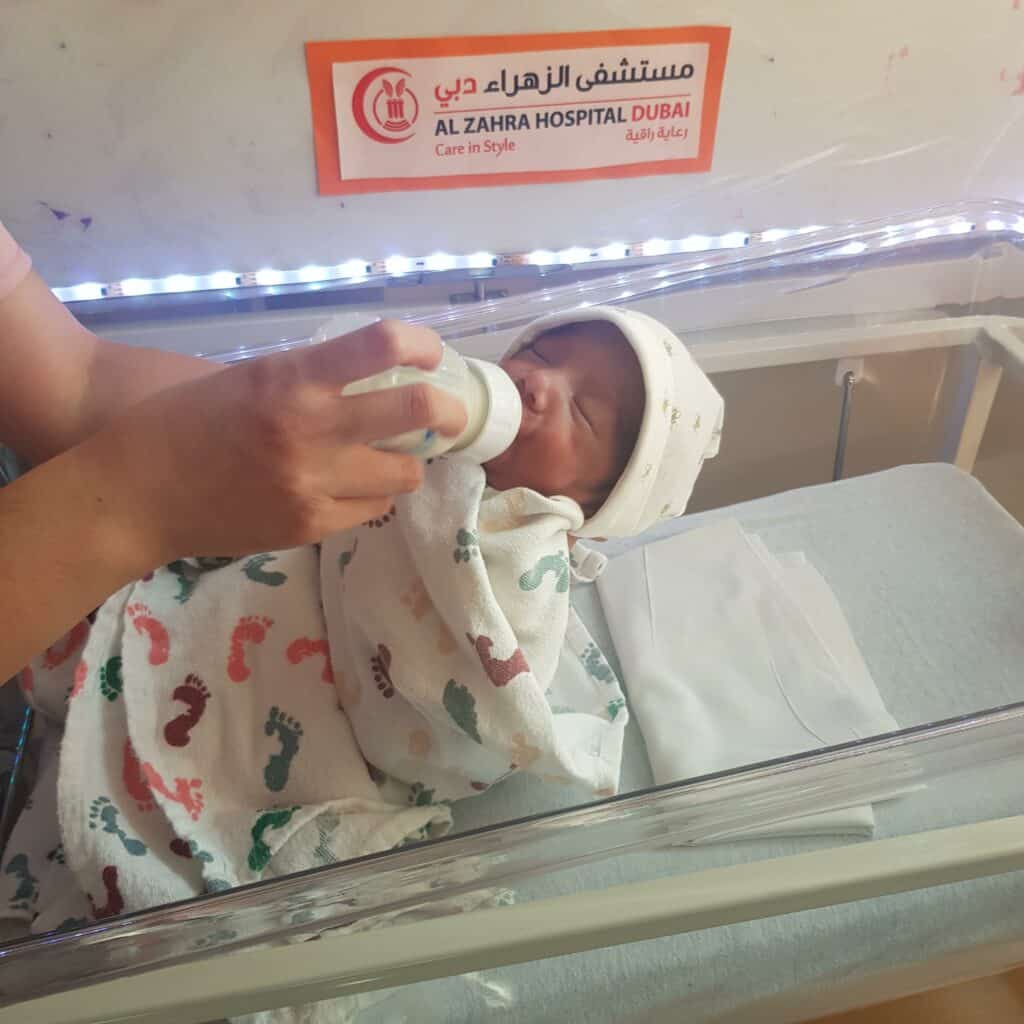 Baby Born at 27 weeks to comatose woman in ICU & 3-day old baby becomes the youngest Surgical patient in the UAE.
The Al Zahra Intensive Care Unit saves the life of a comatose pregnant mother in critical condition along with the life of her baby by performing an emergency cesarian section in the ICU, delivering the baby at only 27 gestational weeks.
Another miraculous case occurred at the Al Zahra NICU with a successful surgery performed on a 3-day old premature baby.


UAE, Dubai (xx/xx/xxxx): A baby at Al Zahra Hospital Dubai was delivered in the Intensive Care Unit (ICU) through an emergency cesarian section at only 27 weeks, while the mother was in an induced coma and connected to breathing machines.
Maham and Umer were preparing for the birth of their first baby when Maham was detected with Covid 19 in her second trimester of pregnancy, 23 weeks. Maham's case was getting quite serious with severe complications leading to her admission to the ICU. She was then connected to a breathing machine and given medication to support her heart, a very tough situation for all including herself, her family and the doctors.
The initial plan was to get the baby to 28 weeks to reduce the risk of any complications, but baby Dua' didn't want to wait that long. Maham's condition was worsening and getting more critical, putting her baby in danger.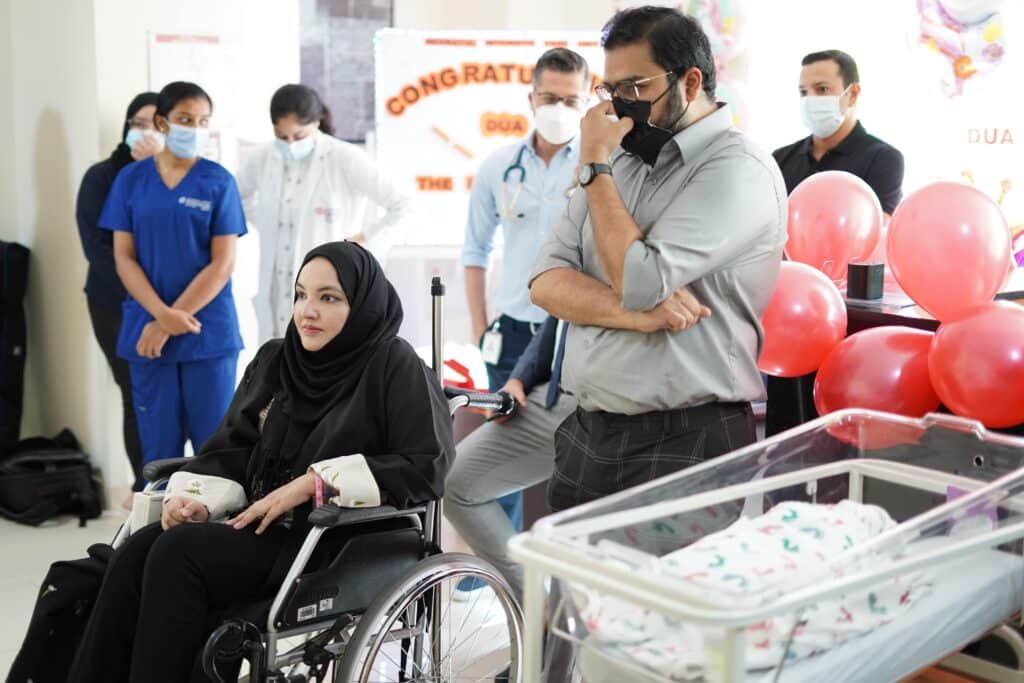 "I was extremely worried about my wife's state and the chances of our child's survival. We were newly married and were so excited about expecting our first baby. When the news came of the critical condition of my wife and baby, I couldn't believe this was happening to us. We were at Al Zahra Hospital Dubai for 3 months after my wife went into a comma at only 25weeks of pregnancy. What happened was a real miracle and we cannot believe all three of us are happy and healthy and here to tell the story." Mr. Umer, father of Preterm baby Dua.
Due to her worsening condition, the doctors decided to deliver the baby at only 27 weeks through an immediate emergency cesarian section inside the ICU in order to save the lives of both the mother and her first born baby.
"The mother was in a highly critical condition, putting the baby at risk. To ensure that both the mother and her baby would get the best care, we had to go for an emergency cesarian in the ICU, since the mother was connected to breathing machines. We were equipped with all the necessary technologies and highly qualified surgeons, leading to a risky yet successful procedure." Dr. Mohammed Khamis Hussein, Critical Care Specialist at Al Zahra Hospital Dubai
Once Dua was delivered, she was immediately brought to the NICU, where she was required to be on a ventilator for a period of time. She had all the complications expected with such an extremely low birth weight, only 700 grams which is equal to 1.5 pounds. Umer got the chance to see Dua only hours after the delivery. With his baby in the NICU, Umer was in a difficult situation having both his wife and baby in critical conditions and staying in emergency units.
"Survival rates of these tiny babies vary depending on the kinds of interventions a hospital is able to provide. For babies who survive, the earlier they are born, the higher the risk of future complications or ongoing disability. The whole team was working hard to ensure that Dua receives all the care she needs, providing a multi-faceted support system and a treatment plan dedicated to Dua. Thankfully, Baby Dua showed great progress and was discharged in a perfectly healthy state." Dr. Maged Zakaria, Neonatologist and Pediatric Specialist at Al Zahra Hospital Dubai.
It wasn't just the baby who was showing signs of improvement, but the mother was getting better as well. Maham came out of the comma a month after her delivery but waited another month and 2 weeks to finally be ready to be discharged.
"I had to learn to talk again, walk again, and carry out any basic function. The team at Al Zahra were not just professional, they became family. They held me, cried with me, laughed with me and celebrated every small achievement in bringing me back to life. Words cannot express what they have done for me and my family" – Mrs. Maham, patient at Al Zahra Hospital Dubai.
Additionally, the Al Zahra NICU has recently performed a successful lifesaving surgery by Dr. Fadi Iskandarani, on an exceptionally young premature baby, born at 33 weeks with respiratory distress syndrome, low birth weight and Neonatal Hypoglycemia. On top of these common problems of prematurity, the baby had a congenital perforation in his intestine, which is a rare complex condition that happened before delivery. The condition was discovered soon after delivery. Due to the severity and danger of the diagnosis, surgery was required for the infant at only 3 days old, making him one of the youngest infants to be operated on in the UAE.
The surgery was successful, ensuring the infant gets the best possible outcomes to foster optimal growth and development.